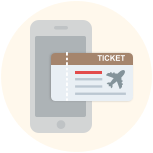 Online Check-in
Etihad Airways Online Check-in
To avoid long queues in airport, you can check in online via the official website of the Etihad Airways (not a partner airline) and, therefore, print your Boarding Pass, which you can bring on to the Bag Drop counter.
Etihad Airways also enables you to check in online on a mobile devise, through which you can get your boarding pass. The online check-in is available on Etihad Airways until 3 hours prior to the departure time.
The Facilities Offered to all the Classes
---
Etihad Airways Services for Economy, Business, and First Classes
Economy Class
Seats spacious enough to sit up and with a smart design to ensure your comfort and convenience
Seats are supplied with handset and connectivity ports in easy reach
Full-sized fleece blankets
Access to Etihad Airways Abu Dhabi Lounges is available for a small fee
An array of various meals based on the period of flight
Complimentary dental kits and eyeshades are available on request
Wi-Fi connectivity for selected flights
Business Class
All the previous utilities with some upgraded to:
Customizable seats to suit each position you desire, offering increased personal space, with concealed storage, a meal table, and a separate large table for laptops
Complimentary access to Etihad Airways Abu Dhabi Lounges
The seat converts into a fully-flat bed of up to 6 feet and 8 inches
A lighting system that provides a relaxed ambience across the flight
An elegantly designed meals with a wide range of options, inspired by hospitality experts
10.6- to 18.5-inch touch screen TV and Wi-Fi connectivity
First Class
All the previous utilities with some upgraded to:
The ability to choose from First Apartment, First Suite, the Lobby, or A380 Upper Deck
All-natural bedding products (mattress, duvet, cotton sheets, and pillows)
Free access to Etihad Airways Abu Dhabi Lounges
A personalized menu of foods based on your favorite choices
A great selection of Amenities products of the two best-in-class brands
23- to 24-inch flat screen TV with hundreds of hours of on-demand entertainment with noise-canceling headset.
Popular routes for Etihad Airways