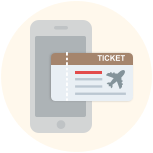 Online Check-in
Philippine Airlines Online Check-in
To reduce the long queues and accelerate boarding, online check-in always helps ease the process. The online check-in is available on Philippine Airlines from 24 hours up to 1 hour before the scheduled departure. Hence, you can select your seat and print your boarding pass before proceeding to the airport.
Note: Online check-in is available only for the following flights:
PAL/PAL Express Domestic
PAL International except flights FROM Chengdu (China), Xiamen (China), Jinjiang (China) and Tagbilaran-Incheon v.v.
The Facilities Offered to all the Classes
---
Philippine Airlines Facilities for Economy and Business Classes
Economy Class
Modifiable seats with various positions
The seats feature an actuating seat pan that enables the seat bottom cushion to be moved up or forward to support the body while relaxing
Savor every mouthful of unique cuisine
A wide selection of inflight beverages, like juice, ice tea, soft drinks, coffee, or tea
Business Class
Adjustable seats with various positions equipped with reading lights, laptop charging port, and USB port
A 15.4-inch personal television mounted to the backseat
The entire cabin is equipped with Panasonic eX2 Inflight Entertainment System to choose from a full library of video and audio content plus digital games
A selection of delicious Western, Filipino, and Japanese Kaiseki dishes on some routes
A wide selection of inflight beverages, like juice, ice tea, soft drinks, coffee, or tea
Popular routes for Philippine Airlines