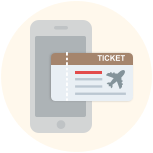 Online Check-in
Turkish Airlines Online Check-in
To facilitate the travel procedures and make it smooth, Turkish Airlines made online check-in available via website or mobile app. If you checked in through mobile app, you can receive your boarding pass on your phone; while in case of checking in through the website, you can get a printout of your boarding pass.
However, check-in options differ based on the airport you are departing from. So you can click here to find out check-in options at airports.
Additionally, if you checked in online, you need to be present in the airport at least one hour before scheduled departure time for domestic flights and two hours for international flights.
The Facilities Offered to all the Classes
---
Turkish Airlines Facilities for Economy and Business Classes
Economy Class
Comfortable seats that can recline up to 18.5 cm, with 78 cm legroom, movable headrest, adjustable footrest, power socket, and USB and Ethernet socket.
Gourmet meals of Turkish and international flavors prepared by highly qualified chefs that vary according to the season of the flight.
A wide variety of entertainment options that go with various tastes.
Amenity kit that includes sleep mask, earplugs, socks, toothbrush, toothpaste, and lip palm.
Business Class
More spacious seats that turn into fully flat beds, with additional features, like seat control panel, ambient reading lamp, modifiable food table, and private area that can be screened off.
The business class will turn your onboard dining experience into a journey of tastes by the most elegant cuisine on the skies.
Powerful entertainment system of the latest movies, music playlists, and specially made documentaries about the destination.
Extra baggage allowance.
Popular routes for Turkish Airlines